Scientific High Power Jacketed High-Speed Laboratory Mixers with optional cooling mixer
For high power mixing of powders. PVC Dry Blends, Pigment mixtures with wax polymers etc where melting of the polymer wax is required
With water cooling of mixing vessel for precise temperature control
Bench Top Mini Mixers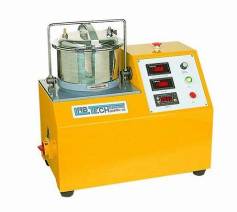 Three mixer models with bowl sizes of 10 as well as 5 and 1.5 liter gross volumes.
With infinite variable impeller speed drive.
These mixers are designed for lighter mixing duties and thus have lower motor powers than our Fluid High Speed mixers described on earlier pages.
The Mini Mixers have been given a nice modern design utilizing a very sturdy sub cabinet with integrated control panel. They are very easy to use and ideal for fast and easy mixing of dry powders such as Pharmaceuticals, Minerals, plastic Powders, Pigments, Fillers, and Additives etc. The Infinite Variable Speed Mini Mixers are powered from a programmable Frequency Inverter with high starting torque.