Two Roll Mills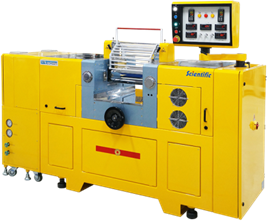 Polymer mills available with roll diameters 110, 150 and 200 mm. Rolls with TRUE 3-Zone electric heating or optionally heated and cooled from internal oil circulating units.
From manual versions to fully automatic hands-free computerized mills used for color matching, quality control and research
The Roll Mill, used in conjunction with our Laboratory Press offers a much less expensive and quicker color matching results, than Injection Molding or extruding the color sample. This is a perfect combination for the custom compounder.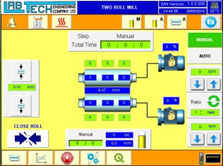 Standard Features on Laboratory Two-roll Mills include an LCD color monitor / touch screen with pre-installed user-friendly software for completely computerized operation of the unit.
Other standard features include:
Central Wheel for nip gap adjustment
Digital nip gap readout
Large digital control instruments
Multi-positioning of control panel (swing arm)
Additional Two Roll Polymer
and Rubber Mills Models